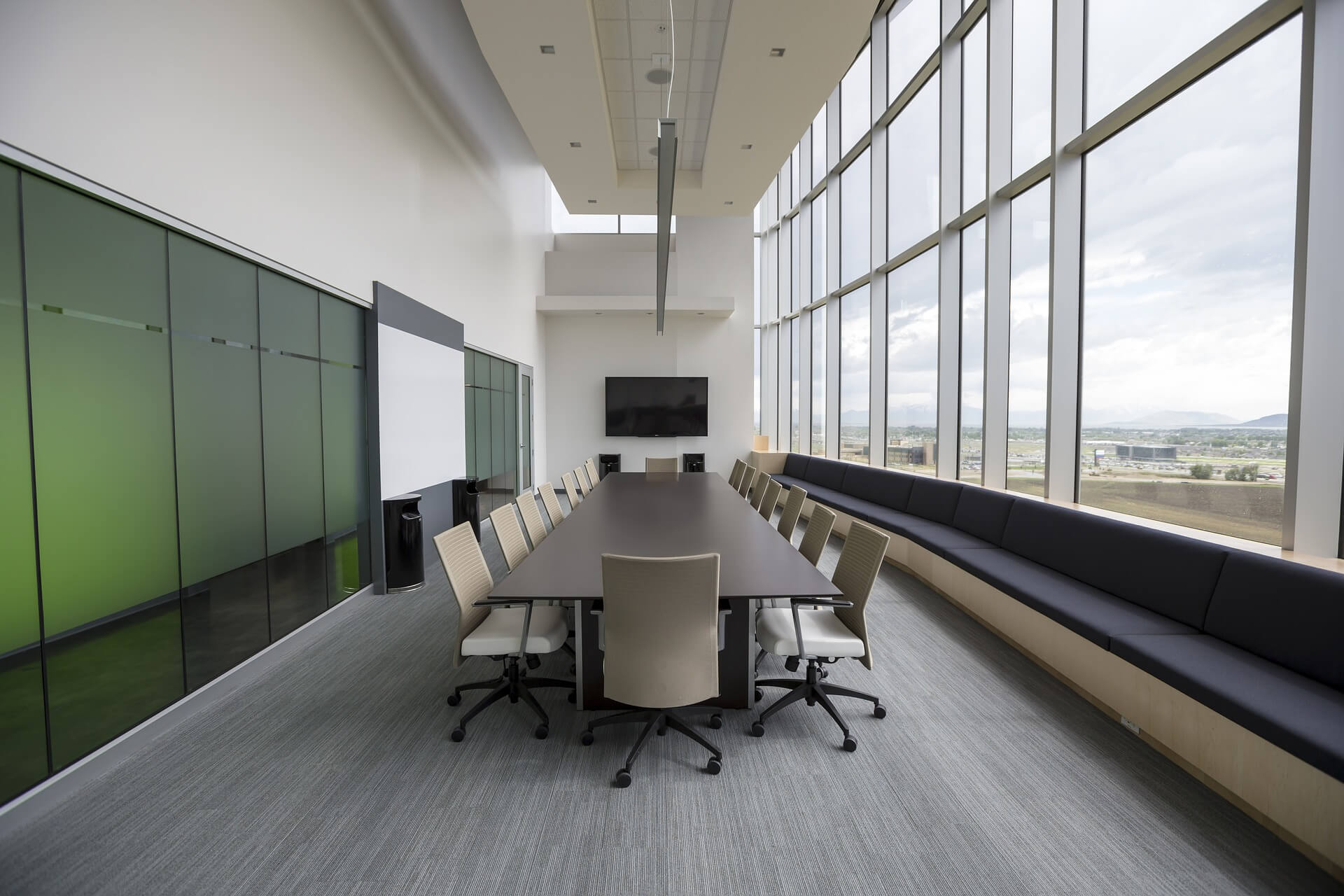 Conference Room Setup Ideas
Even though many workers are gravitating toward relaxed office environments, the modern conference room remains a vital part of today's workplace. They offer private space for larger meetings, provide an area to discuss confidential topics, and accommodate formal gatherings. A home to meetings and collaborative sessions, conference rooms are a key component of your office. They are home to collaboration and a spot to make a design statement. Here are five of our favorite conference rooms design ideas.
Elegant conference room chairs placed around a long table creates a modern meeting room setting. These spaces are equipped for large teams and provide equal access as meeting participants gather around the table. Perfect for idea sharing and collaboration, the modern conference room supports today's creative worker.
Boardrooms are no longer just an image building tool for large multi-national organizations. Over the last decade they have evolved into the hub for most strategic, operational and tactical decision making within organizations and are powered by a whole new generation of tools for presentations and smooth sharing of content.
The modern boardroom & conference room design features high-resolution displays of upto 4K for improved image clarity resulting in crisper more engaging presentations. This means that communicating finer details like intricate graphs, detailed spreadsheets and high-definition photographs etc., is simpler than ever before. These displays can also be touch sensitive, which allows information to be annotated to convey ideas in a more dynamic and precise way.
ireless presentation technology enables BYOD, which allows presenters to walk in even with mobile devices like a tablet or a smartphone, and present content seamlessly and wirelessly. Highly intuitive control systems let the presenter get the room lighting, projector and other devices ready with the touch of a single button.
Boardrooms & Conference Rooms designed by Actis improves the environment for meetings, improves operational client interactions and helps reduce corporate travel expenses. It also provides meeting participants with the flexibility to participate remotely, in case they are unable to be physically present.
VIDEO CONFERENCING, MEET RADICAL SIMPLICITY.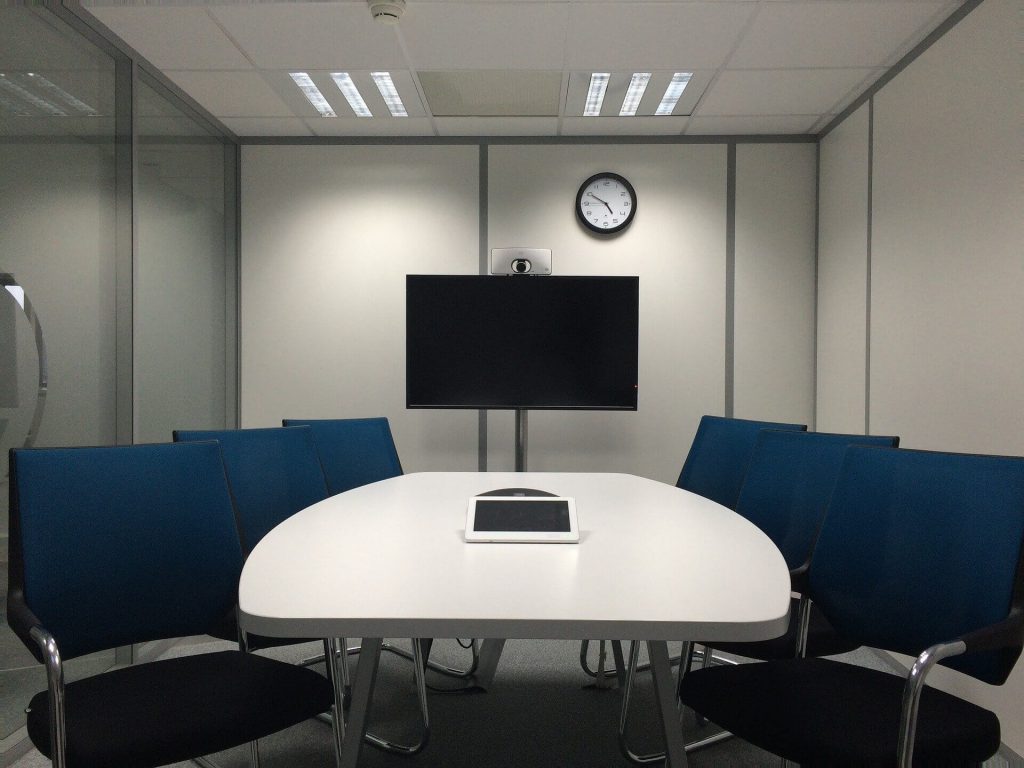 (POLY STUDIO X50)
The Poly Studio X50 video bar delivers radical simplicity in a small, elegant package. In small- and medium-sized rooms, connect easily with whatever video collaboration software you may use. Experience full boardroom-quality audio, advanced camera capabilities, and quick wireless content—all in one sleek video bar. And say goodbye to unnecessary pucks, cords, and cables, along with the PC or Mac to drive the meeting, since the Poly Video OS runs the show. Easy to install, easy to manage.
Features/ BENEFITS
Make it easy for anyone, even guests, to share content wirelessly from any personal device—with no special apps or tools needed
Powerful audio pickup and incredible noise blocking technology allows every word to be heard without distractions
·       Ideal for rooms of up to 10 participants

·       Surround everyone with the rich, legendary sound with stereo speakers that deliver immersive, room-filling audio

·       Dual monitor support ensures you have the ideal setup for many types of rooms

·       Be heard clearly with our next generation microphone array

·       Voice tracking camera.
A well-designed conference room setup importantly, the right conference room setup supports meeting objectives.
Every conference room has various meeting types.
The first step in setting up a conference room is determining the type of meetings you plan on having.
The following components are standard in a conference room setup:  
Displays: The first thing people notice in a conference room is the "visual" part of conference room. Ensure your display is centrally located for easy participant viewing.  
Camera: A conference room camera is important. They range from small, huddle room cameras to more sophisticated ones in larger, more elaborate spaces.
Audio: Quality microphones and speakers are critical. They are usually on-table or a sound bar located below the display. Above all, the better the sound quality, the better the meeting.  
Small Meeting Room: Meeting rooms which seat 6 or less people
Large Meeting Room: Meeting rooms which seat 7 or more people
Boardroom: Meeting rooms which are more formal and are reserved for executives
The 18-year history of L A Technologies Pvt.Ltd is one that speaks of the evolution of a company by a visionary, Mr. Lawrence Albert, and of its employees, who have helped businesses and governments apply information technology to achieve new levels of competitiveness and success.
© Copyrights 2010. All rights reserved. by / L A Technologiesindia.com